Green Building Specialists
At House & Sun, Inc. we've specialized in energy-efficient green building for over 35 years. We've supplied and installed super-insulated Structural Insulated Panels (SIPs) for residential, commercial, and institutional projects. We also specialize in top-quality sunrooms and conservatories.
Examples of our projects include:
University of Maine Hutchinson Center

Portland International Marine Transportation Center

Southern Maine Community College Art Center

Lincolnville Central School

Coastal Kids School

Avesta Homeless Veterans Apartment Building

Pediatric Associates of Lewiston

Bar Harbor Bank & Trust

Franklin Savings Bank

Acadia National Park Schoodic Education and Research Center

Twin Pines Camps and Resort

Lyman-Morse Boatbuilding

Brooklin Boat Yard

and the Waynflete Lower School (certified super-energy efficient by the PassiveHouse standard)
Our SIP projects have included:
fine homes

camps

cottages

barns

studios

banks

churches

yacht construction buildings

a factory

schools

a performing arts center

offices

apartments

and resorts
Contact
kel@houseandsuninc.com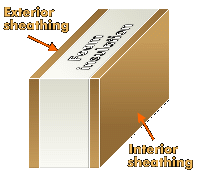 Structural Insulated Panels (SIPs)
SIPs are composed of a continuous core of rigid foam insulation, which is laminated between two layers of structural board (usually oriented strand board) to form a single, solid structural panel. Department of Energy testing shows free-standing, self-supporting SIPs out-perform wood frame construction hands down: they are more than twice as strong as stick framing, have ten times the racking resistance, and substantially reduce heat transfer, air infiltration, and outside noise. We have several different foam core types, in a variety of thicknesses and R-factors, for walls, roofs, and floors. House & Sun offers SIP installation services throughout New England.
House & Sun, Inc. also provides nail base panels, which are non-structural, for deep-energy retro-fits on existing buildings. They can also be used for new construction and come in solid foam and vented versions for both walls and roofs.
Let's Connect.
Use the form below to contact us for more information or a free estimate on your next project. You may also email us to make an appointment.